The Twelve labors of Manfield Park
Portefoin Galery, Paris 2018
Enamelled earthenware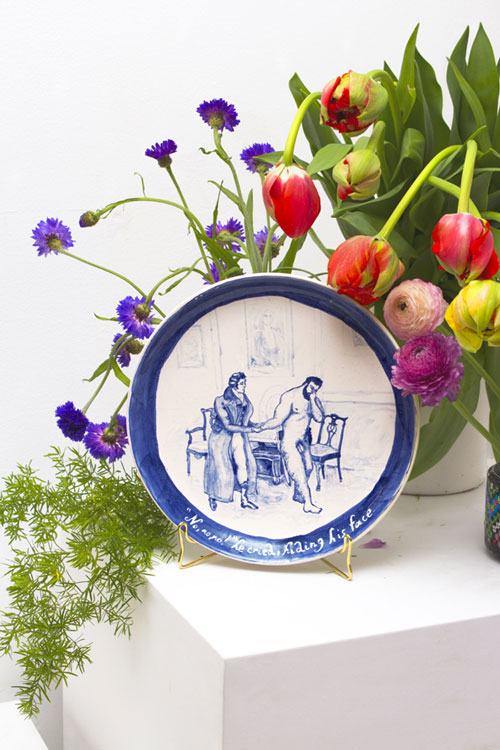 Twelve enameled earthenware plates represent scenes from Jane Austen's novel Mansfield Park, except that Fanny Price seems to have been replaced by Hercules.

All of Jane Austen's stories begin with a wedding and a specific capital. So much the worse for those who are fooled by the prettiness of the gentry of the Georgian era; seeing it only as a mushy novel, too feminine, so to speak. But who says that? A gaze dreaming of being more masculine?

Mansfield Park's heroine is Fanny Price, whose name resonates with sex and money. She is the poorest heroine in Jane Austen's work. We follow the transition of class that she makes through love, but also thanks to her patience and endurance. Published in 1814, the Western world is in the middle of a transition. That of the classes that the stammering industrial capitalism brings (the violent social conflict of Luddism takes place between 1811 and 1812, and whose leader is represented with female clothes). That of the territories that are being redesigned, separating the city from the countryside even more (illustrated in the novel by the difficult friendship between Fanny and the Crawfords, sophisticated Londoners). That of the exclusion of women from public sphere since the enactment of the Napoleonic Civil Code in 1804, despite the hopes raised by the French Revolution (also Jane Austen signs her novels with a "by a lady", the republican spirit suggesting that to be a woman of letters is to be a courtesan, immoral and aristocratic). But also the slow fight for the abolition of slavery (the novel alludes to the Somersett case of 1772 made precisely by the Earl of Mansfield, as well as his niece, adopted daughter, black, Dido Elizabeth Belle).

The violence of all these conflicts does not take as a backdrop the great painting of history but rather that of genre. The heroes are no longer the conquering men, but the people, the women. And in this case Fanny Price, who endures with intelligence and resistance the humiliations linked to her gender and class, and who achieves her emancipation. The figure of the hero par excellence that Hercules represents is often reduced to this archetype of masculinity. The society of the nineteenth century until today will limit the representation of Hercules, erasing the myth of his relationship with Omphale, more ambiguous, still appreciated in the eighteenth century. From a slave bought by Queen Omphale, it is not on the battlefield but in her house that he will manage to emancipate himself. An inversion of genres leaves Hercules with the distaff and the needle, Omphale with the club and the lion skin. As in Jane Austen's work, it is through resistance and not force that Hercules will find his freedom.
Floral compositions by Portefoin Galery
Painting in the background : Hercules & Omphale, Artemisia Gentileschi