Art center Transpalette, Collective exhibition Traversée Renarde for 40th anniversary of Beaubourg Art Center, 2017
Indoor landscape extract, electronic system, earthenware, wood, marquetry, golden leaf, performance
State 1

A garden recreates the view of a photograph presented in an electric box. This one feeds objects made of earthenware and wood made by the artist. They are decorated with amalgamated patterns. They seem popular and vernacular, also familiar and clumsy. The installation is inspired by Virginia Woolf's response to Coventry Patmore's poem The Angel in the house, written in 1854 for her beloved Emily Patmore.

State 2

On October 21, 2017 at 7pm the artist comes to replay the scene of the photograph. He poses as the model in a garden whose plants are identical to the place photographed. He wears similar clothes, which he has sewn himself, like the person in the photograph. Before sitting down, the artist activates the state n°2 of the electric board that supplies the ten earthenware and wooden boxes with a continuous light. This reveals in each box a pious image in a Sulpician style, representing an angel protecting a child in a perilous situation. The flesh of the angel has been cut away, leaving the light to replace the dark presence.
State 3

The artist gets up and activates state 3 of the electrical panel when he has to leave the premises. The light is emitted in an accidental rhythm from the objects whose patterns are made in a neurotic reconstitution. The accidents and the work of after memory engender in the style excesses, lacks, repetitions, which alter them from a possible original model.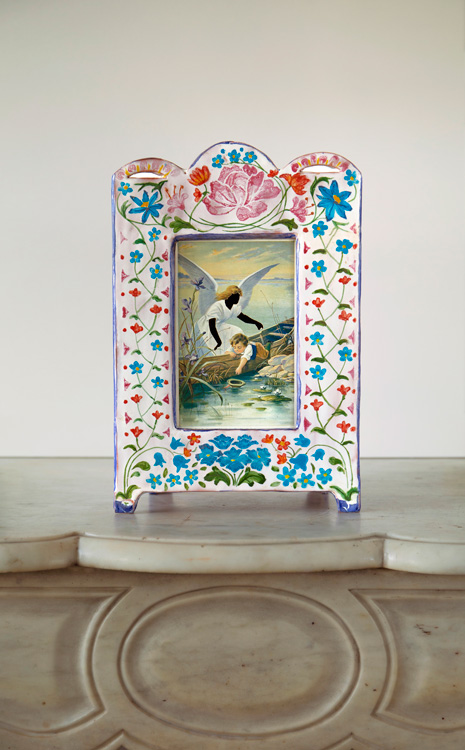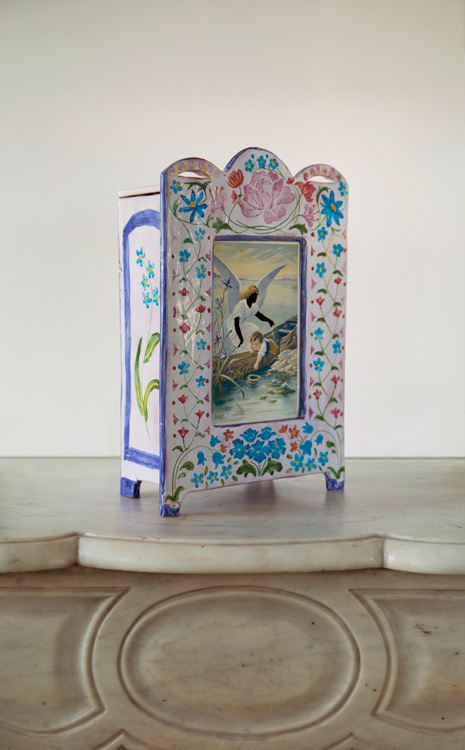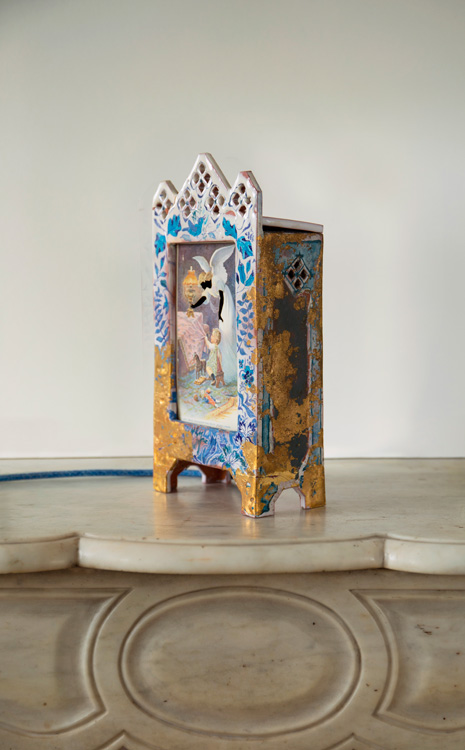 Coventry Patmore's poem The Angel in the house is a love poem for his wife Emily. Yet the uniquely sacrificial and accommodating qualities he describes seem to make love possible only on the condition of self-effacement, as if the beloved were no more than an image. This particular expectation, this "angel", will cast its shadow on the female condition since the 19th century. Virginia Woolf will claim to want to kill this "angel in the house" in order to emancipate herself as a woman, to become a writer, perhaps even to assert herself as a lesbian. This may come as a surprise when one knows the tenderness she expresses for Mrs. Ramsay, the maternal character from To The Lighthouse, whose death accompanies the story of the deterioration of their then abandoned house. Faced with the difficulty of mourning and depression, Virginia chooses here a violent gesture, certainly of destruction, whose vivacity is rather an act of life. The angel who should show us the direction to take in order to move forward can become the ghost who makes us turn around like Lot's wife or even Orpheus with Eurydice. Here the plants remind us that putrefaction and regeneration are inseparable, that the angelic perfection of memory and ideas overshadow those who have disappeared as well as those who still share our mortality.